How to get funding quickly and easily
We know that in managing farm activities you face situations where you need money without delay. We support you with prompt funding through a streamlined and unbureaucratic credit approval and granting process:
Step 1
The mobile team travels to your farm
Step 2
We offer support and advice to find the best financing solutions
Step 3
You benefit from assistance in drawing up your credit file
Step 4
The dossier will go through a review and approval process
Step 5
Get the funding you need quickly and easily
Agricover Credit IFN - loans for agriculture
Established in 2008, Agricover Credit IFN is the leading non-bank financial institution in Romania, specialising exclusively in lending to farmers. In over 13 years of activity, we have developed successful partnerships with more than 4700 farmers, constantly offering them innovative financing solutions tailored to their specific business.
In developing financing solutions we rely on:
INNOVATION - we combine financing tailored to farmers' needs with unique advantages based on the synergy between the Group's divisions
EXPERTISE - through accumulated experience and continuous training we have a detailed understanding of the specifics of farming;
SPEED - short response time, no bureaucracy and a team of professionals ensuring national coverage.
Discover financing products and apply for a loan
Ensuring a steady cash flow is vital in any business, especially in agriculture when your income depends on the seasonal specifics of the farming industry. That's why Agricover Credit IFN is a reliable partner who knows your farm and can provide you with fast and flexible agricultural loans to secure the working capital or investments needed to develop and modernise your farm.
Types of loans available
We understand your farm's specific needs and the dynamics of farming, which allows us to build innovative solutions for: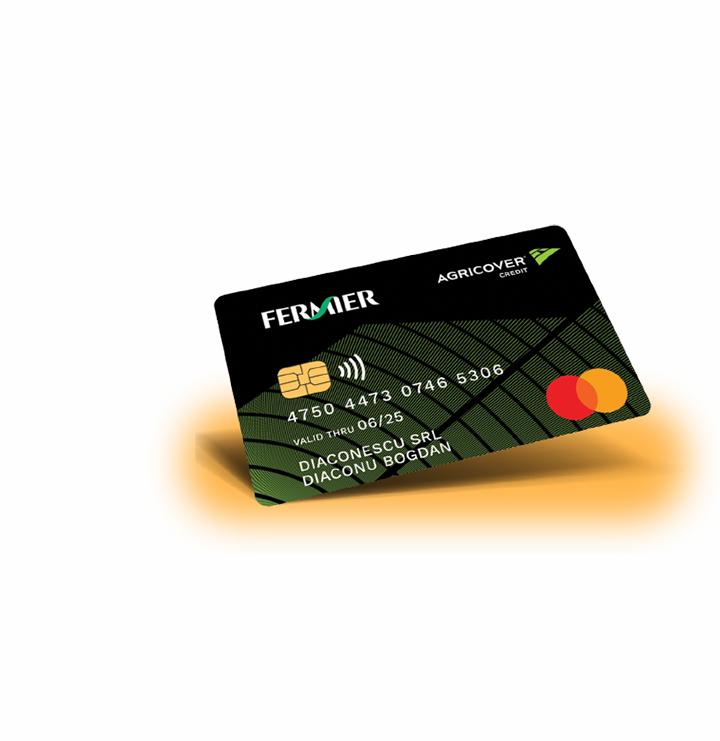 FERMIER CARD
Constantly striving to provide quick and easy financing, we have launched a modern farmer finance product that allows you to manage the working capital needed to run your business. The FERMIER Card is the first credit card for small and medium-sized farmers in Romania with multiple benefits.
Contact the Agricover representative in your county
No matches
Adrian BUCUR
Regional Finance Manager
Buzău, Dâmbovița, Prahova, București, Ilfov
Alina DIACONU
Regional Finance Manager
Mureș, Harghita, Sibiu, Brașov, Covasna
Andrei ARMANCA
Regional Finance Manager
Arad, Timiș, Caraș-Severin, Hunedoara
Călin MARIAN
Regional Finance Manager
Bihor, Satu Mare, Alba, Cluj, Sălaj, Maramureș, Bistrița Năsăud
Carmen GROSU
Regional Finance Manager
Gabi ROMAN
Regional Finance Manager
Gabriel MOROȘANU
Regional Finance Manager
Gabriel STĂNOI
Regional Finance Manager
Gorj, Mehedinți, Dolj, Olt
George CĂPĂȚÎNĂ
Regional Finance Manager
Irina VIRSA
Regional Finance Manager
Robert IVAN
Regional Finance Manager