Agricover launches Crop360 digital farming platform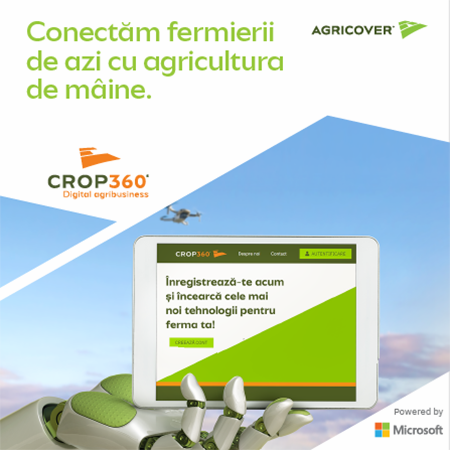 Descarcă imaginea
Agricover - the leader of the agribusiness market in Romania, launches the specialized Crop360 platform, which provides farmers with digital agriculture services as an additional support in growing profitable businesses.
"Crop360 is an integrated digital farming platform built to give farmers quick access to services and information specific to their day-to-day farm activities to make real-time decisions. For example, the My Farm Module allows farmers to remotely monitor crop progress by processing satellite imagery and determining a set of vegetation indices. The platform also has weather alerts or disease and pest alerts, as well as field access information. For the construction of the platform we chose Microsoft as our technological partner, combining their technological expertise with our group's agricultural expertise, resulting in a product we are proud of", said Liviu Dobre, General Manager of Agricover Holding.
"Agriculture is one of the key economic sectors and, like any other industry, it is going through an accelerated process of digital transformation. At Microsoft, we are extremely pleased that we have the opportunity to contribute to the sustainable development of the agricultural sector in Romania, and elsewhere, through our partnerships with companies in this sector. Our aim is to support Romanian farmers in a context of increasing challenges. By partnering with Agricover, we aim to provide them with cloud solutions, tools and platforms, such as Crop360, that simplify the work of farmers and help them to manage their agricultural crops as well as possible and easily, maximizing production while making the use of resources more efficient", said Bogdan Putinică, Country General Manager Microsoft Romania.
Crop360. Connecting today's farmers with tomorrow's agriculture.

By accessing the Crop360 platform, the farmer gets access to a series of digital tools specifically designed for optimal management of farm activities. Once the farmer has imported his plots from APIA, he can monitor the growth stage of the plants and their health via satellite images. He can plan field work and assign tasks to farm employees, is alerted when there is a likelihood of disease in the crop or when there is a risk of extreme weather. He can also locate farm equipment at any time and has access to its route history. Other important facilities for farmers are the efficient organisation of leases, the management of stocks of controlled substances and reporting to the authorities.
At the same time, Agricover's partner farmers have an overview of the commercial relationship. They can quickly purchase the necessary inputs via the online shop, have access to information on the financial situation, credit maturities, drawdowns and repayments made, and the possibility to use credits at a click away.
About Agricover
Since its establishment, Agricover Group has been committed to serving Romanian farmers and providing them with innovative solutions tailored to their needs, so that they can sustainably strengthen their productivity through access to internationally advanced agricultural technologies and financing solutions tailored to the specific agricultural sector.
Agricover Holding SA brings together Agricover SA (specialised in the distribution of agricultural technologies), Agricover Credit IFN SA (non-bank financial institution specialised in farmer financing) and Agricover Technology SRL.
Agricover Technology SRL was established in 2020 and is the company through which the Group provides farmers with access to the latest innovations in global digital agriculture, making it easier for them to transform the way they do business.
Agricover. The next generation in agribusiness.