1000 farmers use Crop360 digital farming platform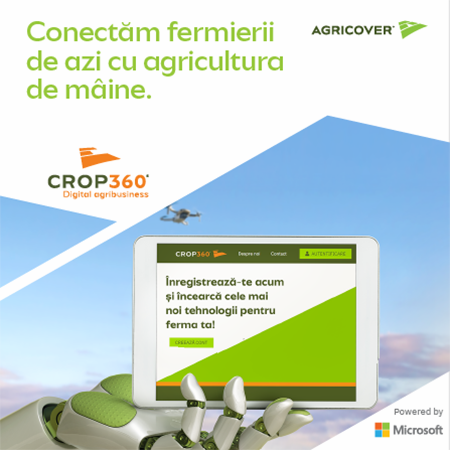 Descarcă imaginea
Agricover - the leader of the agribusiness market in Romania, announces that it has reached the milestone of 1000 farmers using the Crop 360 digital farming platform launched by the company late last year. This represents the fastest adoption rate of digital technology on farms in Romania. The area farmed by user farmers exceeds 250,000 hectares.
"Today we have an integrated digital farming platform developed in close collaboration with our farmer partners to meet their real needs, bringing the most powerful digital tools to streamline farm operations and make the right decisions in real time. Reaching 1000 farmer users in such a short time is no surprise and confirms the usefulness of the solutions offered within the platform. We aim to further develop the functionality by building tools that add value to farmers' businesses, supporting the development of sustainable agriculture and connecting today's farmers with tomorrow's agriculture." said Liviu Dobre, Managing Director of Agricover Holding.
Microsoft is the technology partner of choice for building the platform, providing cloud solutions and tools that make the Crop 360 platform simplify farmers' work and help them better manage their agricultural crops while making efficient use of resources.
Crop360. Connecting today's farmers with tomorrow's agriculture.
The integrated Crop 360 platform enables farmers to use the latest digital farming technologies to increase farm performance and align with EU requirements for sustainable agriculture. Digital solutions integrated into the platform include:
Decision support for on-farm activities: geolocation of plots imported from APIA, satellite imagery and weather data, comprehensive crop monitoring, field work planning, etc.
Useful business management tools: lease management, warehouse management system for stocks (seed, plant protection and nutrition products).
Digital management of interaction with the Agricover Group: e-care module and e-commerce platform for Agricover Distribution, digital selfcare interface with Agricover Credit IFN.
About Agricover
Agricover is the leader in the Romanian agribusiness market, a generator of innovative solutions that transform agriculture and farmers' lives in the long term, creating progress and prosperity on a social scale.
In its more than 20 years of activity, Agricover Group has been committed to serving Romanian farmers and providing them with innovative solutions tailored to their real needs, so that they can sustainably strengthen their productivity through access to internationally performing agricultural inputs and technologies, financing solutions tailored to the specific agricultural sector and digital agriculture services.
The Agricover Group conducts business worth a total of over RON 3.5 billion and serves a portfolio of 9,200 professional farming customers, who farm over 2.6 million hectares of arable land nationwide. At the end of 2021, Agricover Holding subsidiaries employed 470 people.
Agricover Technology was established in 2020 and is the company through which the Group provides farmers with access to the latest innovations in global digital agriculture integrated into the Crop360 platform, promoting on-farm adoption of technologies that support the development of sustainable, high-performance agriculture.