Ten AgriTech startups from Romania, Bulgaria, Hungary, Greece, Czech Republic were chosen as finalists for Nextcelerator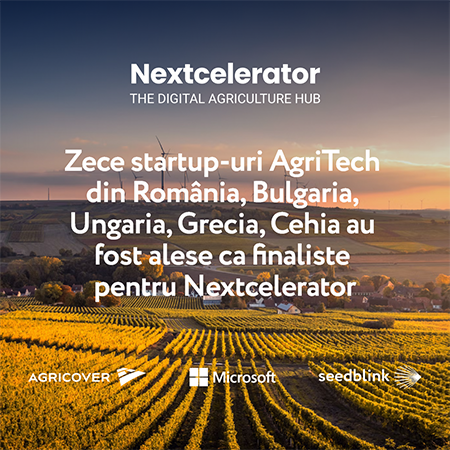 Descarcă imaginea
50 AgriTech startups from Central and Eastern Europe have applied for the Nextcelerator accelerator. SeedBlink, Microsoft and Agricover will provide entrepreneurs with a mix of technology, funding and access to highly experienced agricultural mentors. Nextcelerator aims to support the most innovative technology businesses in agriculture.
Fifty AgriTech startups from Central and Eastern Europe have signed up to the Nextcelerator, the digital accelerator created by Agricover, SeedBlink and Microsoft to support startups in Central and Eastern Europe that are bringing agricultural technology to the table.
The selected startups include marketplace projects, agri-food projects and agricultural process optimisation projects, most of which already have revenue, traction behind them and the intention to refine their product and expand it to wider geographies.
Agriniser is a Bulgarian agricultural brokerage platform that simplifies the buying and selling of crops. Launched in 2019, the platform offers trading services (buyers and sellers trade and negotiate anonymously on the market platform) and market analysis of the Central and Eastern European agricultural industry. Learn more at www.agriniser.com
Agro-U is a Greek agricultural worker recruitment platform. It offers permanent and temporary (seasonal) employment opportunities and has 8000 registered users, including 700 farms. Find out more at www.agro-u.com
Fermier Bun is a Romanian platform that connects local food producers with potential customers living nearby. The company operates as an online shop offering checkout and delivery services. It has 2 logistics centres: one for vegetable products and one for meat, dairy and similar products. Find out more at www.fermierbun.ro
Kolta is a Romanian agricultural marketplace that allows farmers to purchase the necessary agricultural products at high quality and low prices. The platform works as a digital cooperative for farms to reach critical mass for transactions. More information at www.kolta.ro
Ondo is a Bulgarian startup providing smart agricultural solutions for precision irrigation, crop watering and climate control for all crops. Ondo helps farmers reduce the time and manpower required to manage irrigation and nutrition processes, thereby reducing consumption of water, energy and other valuable resources. Learn more at www.ondo.io
Proofminder is a Hungarian artificial intelligence platform for precision agriculture - crop/leaf monitoring for farmers as a SaaS platform with drone production partners. The platform is aimed at large agricultural enterprises in Central and Eastern Europe, seed producers, fruit tree growers and other market players. Learn more about www.proofminder.com
TBL Digital is a Romanian farmland management solution. It allows customers to keep track of all documents and other information related to their land, such as topographical data, maps, permits, cadastre, as well as real-time data related to their crops. Find out more at www.smartland.pro
Ullmanna has developed a hardware product that attaches to tractors to cut weeds from crops. The product that originated in the Czech Republic detects the plants and decides whether to cut them or not. It offers an environmentally friendly solution to pesticides or other inorganic liquids. Find out more at www.ullmanna.eu
Verdefood is a Romanian marketplace that connects local farmers around Bucharest and Cluj-Napoca with local demand for fresh vegetables and fruit. In addition, the platform provides farmers with tools to better manage their sourcing processes. Find out more at www.verdefood.co
Vetemenyem is a Hungarian interactive mobile app for amateur gardeners that provides knowledge on how to grow specific plants; a step-by-step guide to the gardening hobby. The garden planner shows the user which plants should be paired next to each other to promote plant growth. Find out more at www.vetemenyem.hu
Selected businesses will benefit from mentoring, training, business planning and connections with potential partners and investors.
Agricover, a leader in the agribusiness market in Romania, will support start-ups in business strategy. The partner validates business potential (MVP) and facilitates testing of ideas with key players such as professional farmers and mentors. Agricover also provides startups with trainings and programs on managing finances in Agritech businesses, developing a revenue budget and expansion strategy, creating a successful business plan, market entry strategy and leadership.
European investment platform SeedBlink offers its expertise in the field of funding, supporting with information on funding options, crowdinvesting campaigns and important lessons learned from over 50 such campaigns.
Experts part of the Microsoft for Startups program provide mentoring in technology, addressing topics such as intellectual property, technology and product development, and creating successful partnerships with technology providers.
About Agricover
Agricover is the leader in the Romanian agribusiness market, a generator of innovative solutions that transform businesses and farmers' lives in the long term, creating progress and prosperity on a social scale.
Since its establishment, Agricover Group has been committed to serving Romanian farmers and providing them with innovative solutions tailored to their needs, so that they can sustainably strengthen their productivity through access to world-class agricultural technologies, financing solutions tailored to the specific agricultural sector and digital agriculture services.
Agricover Holding SA brings together Agricover SA (specialising in the distribution of agricultural technologies), Agricover Credit IFN SA (the non-bank financial institution specialising in farmer financing) and Agricover Technology SRL through which the Group provides farmers with access to the latest innovations in global digital agriculture, making it easier for them to transform the way they carry out their day-to-day business on the farm so they can make real-time decisions.
About SeedBlink
SeedBlink is the fastest growing investment platform specialising in finding, vetting, funding and scaling European tech startups. Our vision is to shape Europe's tech future by creating an investment platform with access to crowdfunding, angel investor flexibility and VC structure.
The SeedBlink community is at the heart of the platform's success, alongside a rigorous selection of early-stage tech startups and their passionate teams. We aim to open up investment in startups, and we do this by building a modern platform, a tech-savvy community, and our network and expertise to scale companies after investment.
About Microsoft
Microsoft (Nasdaq "MSFT" @microsoft) supports companies in their digital transformation and facilitates the development, deployment and use of intelligent cloud technologies. The company's mission is to help every person and organization globally achieve more.