Agricover Credit IFN secures EUR 20 million from EFSE to finance Romanian farmers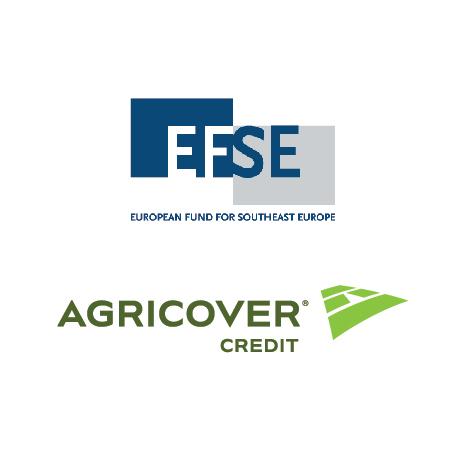 Descarcă imaginea
Bucharest, May 10th, 2023 – Agricover Credit IFN, a significant player in the agribusiness financing sector in Romania, announces new credit facilities from The European Fund for Southeast Europe (EFSE), amounting to EUR 10 million and RON 49.2 million, respectively. The two loans are intended to finance micro, small, and medium-sized enterprises (MSMEs) and entrepreneurs and have been granted for seven years.
"We are pleased to have secured two new credit facilities from EFSE, which further strengthens our strategic partnership with the fund. The capital will expand the financing capacity available to Romanian farmers, contributing to the development of performant agriculture. We recognize that investments in infrastructure, high-quality inputs, and modern technology are essential to achieve the full potential of the agriculture sector. Through our synergistic business model, at Agricover Credit IFN we understand the needs and challenges of farmers so that we can provide the necessary financing for the development of their business," stated Serhan Hacisuleyman, CEO of Agricover Credit IFN.
Agricover Credit IFN offers farmers various financing products and related services tailored to their needs and the specifics of the sector, such as working capital loans, investment loans, and business credit cards. All of these contribute to financing the day-to-day activities of farmers, as well as major investments, with a significant impact on the further development of the business.
EFSE Board Chairperson Klaus Müller said: "We are delighted to deepen our long-standing strategic partnership with Agricover Credit and provide a new loan of EUR 20 million to foster responsible financing to local farmers and agricultural producers. We are also confident that together we can advance the impact investments in Romania and contribute towards achieving SDG 2, 8, and 9, fostering economic development and improving livelihoods in rural areas."
As of December 31, 2022, Agricover Credit IFN recorded a gross carrying value of loans and advancements to customers of approximately RON 2.84 billion, a 42% increase compared to the end of 2021. The rate of non-performing loans continued to be below the sector average, amounting to 2.9% as of December 31st, 2022, compared to the agricultural sector average of 3.1% as of September 30th, 2022 (according to the December 2022 Financial Stability Report, Year VII(XVII), no. 13(23), published by the National Bank of Romania).
The Agrifinance segment, represented by Agricover Credit IFN, is one of the pillars of Agricover Holding's business model. The other two business segments that comprise the group are Agricover Distribution, which specializes in the distribution of agricultural inputs, and Agricover Technology, which facilitates farmers' access to a wide range of digital agriculture technological innovations.
About EFSE
An impact investment fund established in 2005, the European Fund for Southeast Europe (EFSE) aims to foster economic development and prosperity in Southeast Europe and the Eastern Neighbourhood Region by investing in the success of micro and small enterprises as well as improved living conditions for private households. As access to financial services is key to developing this segment, EFSE focuses on helping local financial sectors strengthen their ability to provide responsible financing for this target group. Alongside its investment activities through local partners, EFSE multiplies its impact through the EFSE Development Facility, which provides technical assistance, training, and other nonfinancial support to entrepreneurs and institutions. The fund's impact management system, through its advisor Finance in Motion, underwent an independent verification by impact auditor BlueMark affirming strong Operating Principles for Impact Management alignment in 2021.
EFSE was initiated by KfW Development Bank with the financial support of the German Federal Ministry for Economic Cooperation and Development (BMZ) and the European Commission. As the first public-private partnership of its kind, EFSE draws its capital from donor agencies, international financial institutions, and private institutional investors.
Finance in Motion GmbH, Germany, serves as EFSE's advisor and Hauck & Aufhäuser Fund Services S.A., Luxembourg, acts as manager.
For more information on the European Fund for Southeast Europe, please visit: www.efse.lu
For more information on Finance in Motion, please visit: www.finance-in-motion.com
About Agricover
Agricover Credit IFN is part of Holding, a top-performing group of companies in the European agribusiness sector. With over 20 years of industry experience and an entrepreneurial approach to business development, Agricover is a generator of innovative solutions that transform farmers' businesses and lives in the long term. Agricover Holding includes the business lines Agricover Distribution, specialized in the distribution of agricultural inputs; Agricover Credit, a non-bank financial institution specialized in financing farmers; and Agricover Technology, through which farmers have access to the latest innovations in global digital agriculture.