FERMIER Card
The first business credit card created exclusively for farmers in Romania

The card can be used for any type of transaction: purchases in virtual or physical shops, cash withdrawals from any ATM, both in Romania and abroad.

Zero issue and administration costs.

24/24 access to funds from the approved line of credit.

SMS service to confirm transactions in real time via mobile phone messages.

ZERO interest on the purchase of agricultural inputs from the Agricover online shop, applicable until the end of the business cycle, maximum 12 months (after this period, interest is 18%).

Benefits of Mastercard programs.
Enjoy the Agricover Credit IFN promotional campaign!
Do you have a FERMIER card? Congratulations! Find out how to enter the promotion to win one of the prizes on offer!
Features of the FERMIER card
The FERMIERⁱ credit card helps you quickly manage credit line granted by Agricover Credit IFN to comfortably cover your current financing needs, with control and security over the transactions carried out.
The card allows the use of a credit line for working capital, with the possibility of replenishing the available funds by paying them back at any time during the trading cycle and reusing the remaining credit line immediately;
No monthly instalments! The credit is repaid annually, the trading cycle being correlated to the harvest period of the predominant crop, with a minimum payment of 60% of the balance plus interest and fees;
The FERMIER card and the credit line are granted for a maximum period of 3 years, with the possibility of extension for successive periods of the same duration;
Activation of the

card

is done at the ATM or during the first use at the POS, with a PIN or by telephone (0219167);
Dedicated 24/7 call centre for permanent assistance at 0219167.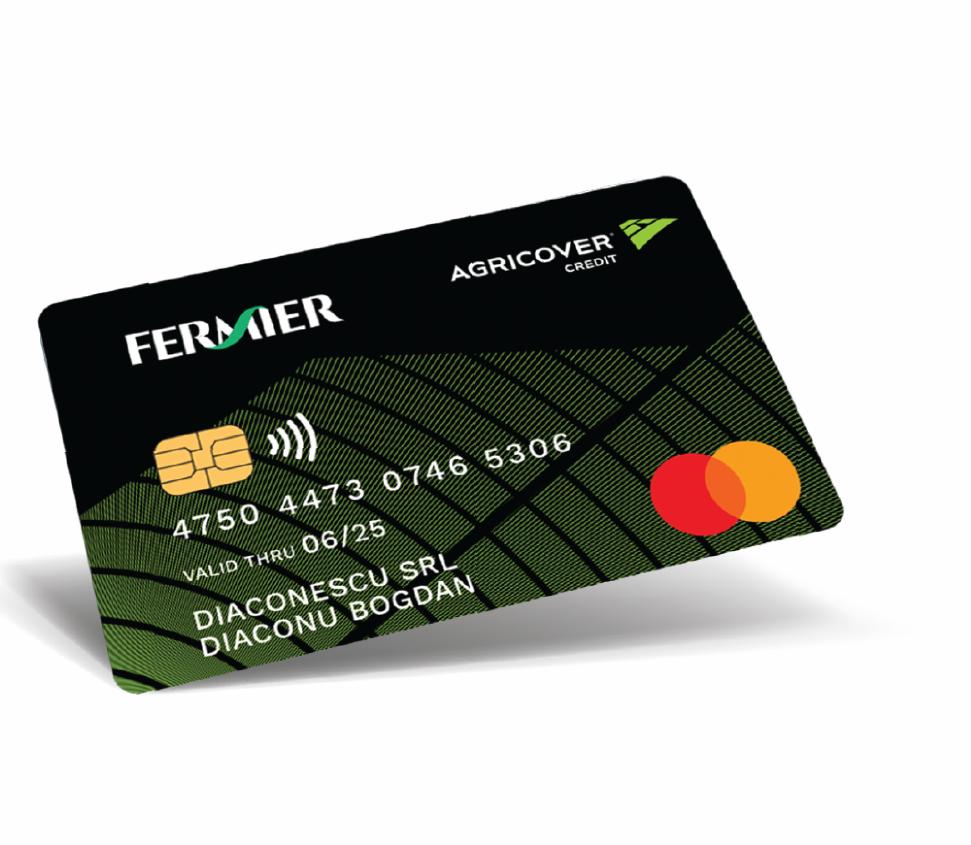 See how other farmers have used the Farmer Card to grow their businesses
Brăcaciu Radian, Cârstocea Eugen and David Raluca are just some of the farmers who enjoy the benefits of the FERMIER card.
Benefits of the Mastercard® programme

You have access to over 115 partners, in categories such as Fashion, Health, Travel, Gourmet, Entertainment, Beauty, Gifts, Home & Decor, Personal Development and Business, Digitise Your Business. You also have access to international offers through Mastercard Travel Rewards.

"Business Digitization Package" where you can use dedicated solutions to accelerate the digital transformation for entrepreneurs and small and medium enterprises in Romania that carry out their financial transactions through Mastercard Business cards issued in Romania.

Free online shopping insurance from Mastercard®, offered by AXA, which includes:
Extended warranty
Best price protection
Shopping protection

Access to Business Lounges at Henri International Airport open 24 hours a day, Monday to Sunday:
Tarom Business Lounge (North) - located in the International Departures Terminal on the 2nd floor, above gate 3;
Satelit Business Lounge - located in the International Departures Terminal on the 2nd floor, above gate 9.