Agricover Summit 2022 series of events started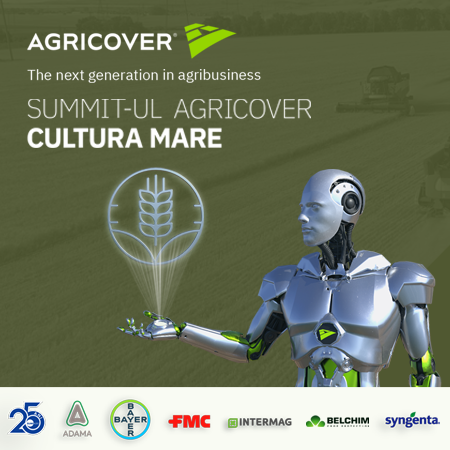 Descarcă imaginea
Agricover - the leading agribusiness market in Romania, launched today the series of specialized events gathered under the Agricover 2022 Summit umbrella.
With a rich tradition in organising meetings and events dedicated to arable farming, fruit growing, potato growing and viticulture, Agricover aims to bring to the attention of its farmer partners news in the field, specialised solutions and state-of-the-art technologies.
This year's conferences take place in a new event concept, in a virtual exhibition space and are streamed on dedicated pages on the Agricover website as well as on YouTube and Facebook channels.
Another new feature of the Agricover 2022 Summit is the interactivity and the possibility for participants to ask questions in real time, which are answered by Agricover specialists in a live session at the end of the event as well as in the broadcast chat windows.
The special guest of this year's events is Agriman - the tireless farmer's helper that brings innovative and digital solutions closer to farmers to support them in their day-to-day farm activities.
The Agricover 2022 Summit kicked off today with a long-standing event dedicated to Romania's main crops. Alongside Agricover specialists, valuable information was presented by technology partners Intermag, Summit Agro, Adama, Bayer, FMC, Syngenta and Belchim, to whom we would like to extend our special thanks for their participation.
"We are honoured to once again address you, our farmer partners, through special, long-standing events that aim to add value to you. I hope you will find many new elements that will be of use to you in managing your farms, supporting the evolution of your business, creating progress and prosperity", said Ghiță Pinca, General Manager Agricover Distribution.
We look forward to seeing you at our next events!
We are very pleased to invite you to join us for the following Agricover 2022 Summit events, which will take place as follows:
23 February, starting at 16:00 - the 8th National Potato Conference
3 March, starting at 16:00 - the 9th edition of the National Pomiculture Conference - Pomicon
10 March, starting at 16:00 - 4th Viticon Conference